AQUA DRILL EX OIL HOLE 3 FLUTE
High precision drilling as deep as 5xD
High accuracy achieved at high feed rates with an optimized cutting-edge form and the superior drilling balance of 3-flutes
Multi-layered Aqua Ex Coating (TiALN+TiAlCr)
Anti-adhesive coating film for added lubrication
Suitable for wide work materials like Carbon Steels, Alloy Steels, and Stainless Steels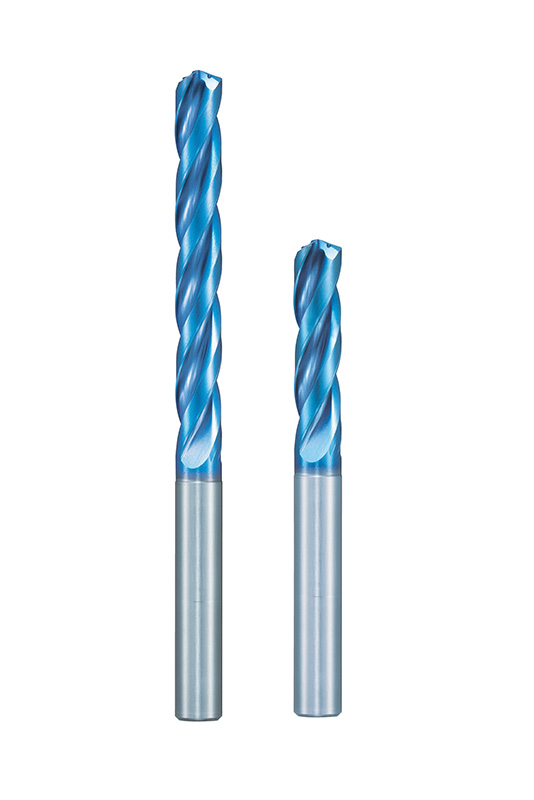 Outline
AQUA Drill EX 3 Flutes Regular
High-accuracy drilling

Achieves high-accuracy drilling up to a depth of 5D with a 3-flute design that delivers excellent cutting balance

Long tool life

Features fine cemented carbide for excellent chipping resistance and AQUA EX coating for enhanced resistance to heat and wear

Improves chip fragmentation and evacuation

Optimized flute geometry and cutting-edge design improve chip fragmentation and evacuation for stable drilling

Lineup

5D: Ø3-Ø16


*Cutting fluid is supplied externally
Catalog Download


 Catalog No. 2232-3 AQUA Drill EX 3 Flutes (24 pages/3,017 KB)
The listed price applies to consumers in Japan.
Features & Performance
AQUA Drill EX 3 Flutes Regular
A 3-flute drill with an optimized flute geometry and cutting-edge design for an excellent cutting balance
High-accuracy drilling

Features a 3-flute design that achieves excellent cutting balance, as well as high-accuracy drilling capable of a reamerless process up to a depth of 5D

Handles drilling up to a depth of 5D

Optimized flute geometry and cutting-edge design improve chip fragmentation and evacuation for stable drilling
AQUA EX coating with enhanced resistance to heat and wear
AQUA EX coating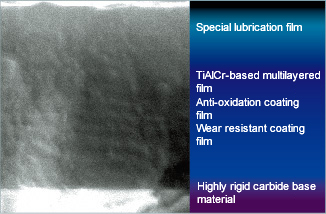 Features a special lubrication film and smoothing treatment for excellent chip evacuation
Ensures high oxidation resistance (1,100°C) by adding a layer with high Al content
Controls crack propagation with a multilayered structure. Optimizes compressive strength for increased film hardness (3,300HV).
Increases resistance to wear.
Oxidation resistance evaluation
Competitor products (listed oxidation resistance at 1,200°C)

Total oxidation

AQUA EX coating

Approx. 50% oxidation
Applicable work materials
Low-carbon steels
Soft steels

SS400, S10C

Carbon steels
Alloy steels

S45C, SCM440

Pre-hardened steels
High alloy steels

SUJ, NAK

Tempered steels


SKD, SKH

Hardened steels


Hardened steels

150HB
225HB
275HB
30 40HRC
40 50HRC
50 65HRC

Stainless steels

Heat-resistant alloy

Ti/Ni Alloys

Cast iron

FC/FCD

Aluminum alloy

AC/ADC

Copper/copper alloy

Cu

SUS304
SUS420
×
×
×
×

: optimal 

: applicable ×: not applicable No mark: not recommended
List Numbers
AQUA DRILL EX OIL HOLE 3 FLUTE LIST NUMBERS
9826 - 3D, Metric sizes
9820 - 5D, Metric sizes
Download: