AQUA DRILL EX FLAT SERIES
One Step Drilling with Minimal Burr
True 180º flat cutting edge creates minimal exit burr
Eliminates the need to use a center drill or end mill on inclined or curved surfaces
Ideally suited for flat bottom applications in the oil and gas, automotive and general industries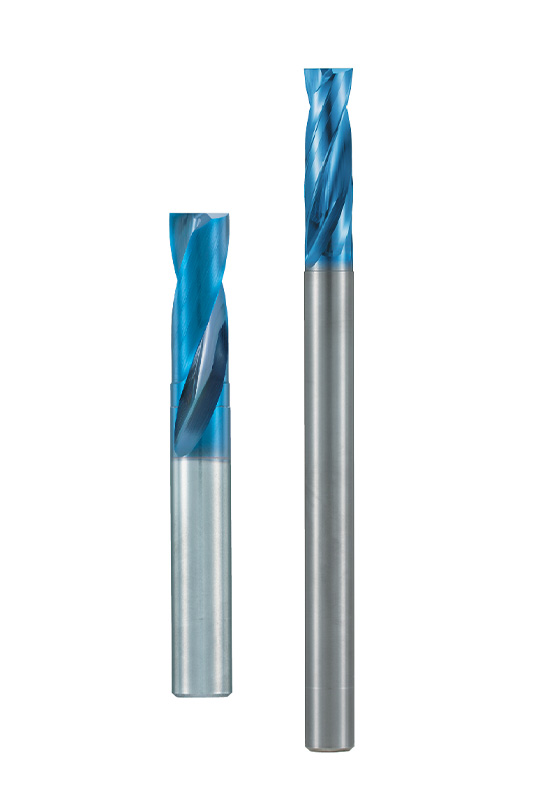 Outline
AQUA Drill EX FLAT
Drill for counter boring has great performance.

Spot facing machining capability for a wide range of applications such as spot facing on slope, correction of eccentric holes, and thin plate machining.

Aqua EX Coating

Better heat and wear resistance from Aqua EX coating for a super long life.

Drilling efficiency improvement due to reduced processing time

Counter boring and guide hole drilled at the same time.
Effective screw length is assured when drilling set screw holes in thin material, without increasing work.
Catalog Download


No.2237-12 AQUA Drills EX FLAT Series (24pages/3,565KB)
FLAT Drill Series
Features
AQUA Drill EX FLAT
Performance opens up extensive applications


Only under 1.9mm are applicable for stainless steels (SUS304)
Cutting resistance on 45° angled surface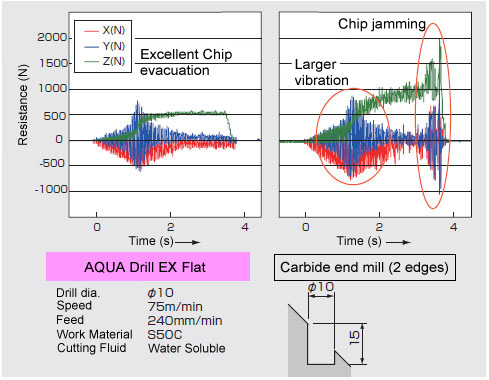 Absolutely flat drill face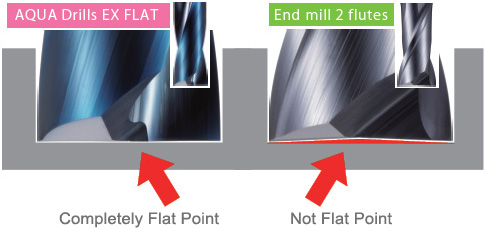 AQUA EX Coating
Improved resistance to oxidation, heat and wear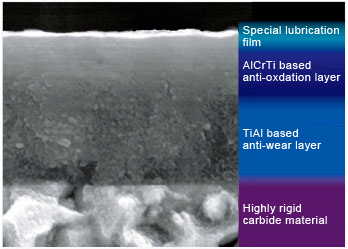 AQUA Drill EX Flat lineup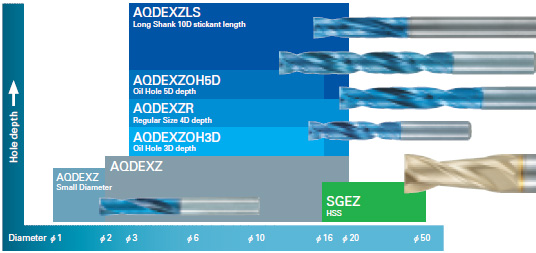 Performance 1
AQUA Drill EX FLAT
Multi-functional flat drill
High-efficiency One shot drilling with no point holes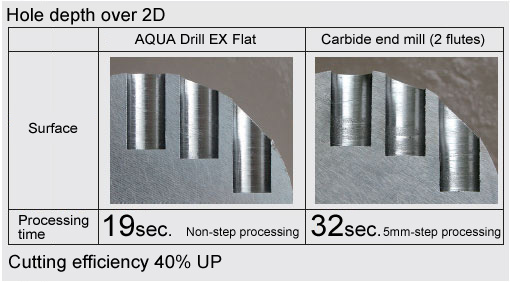 Cutting condition on inclined hole drilling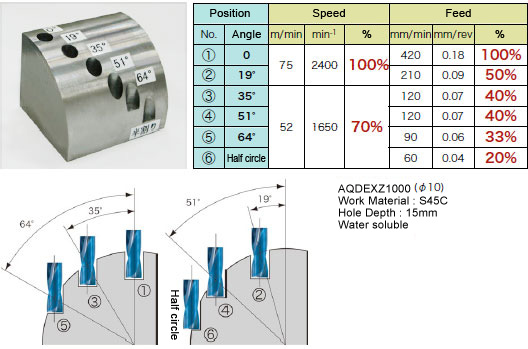 Comparison with competitors counter boring drill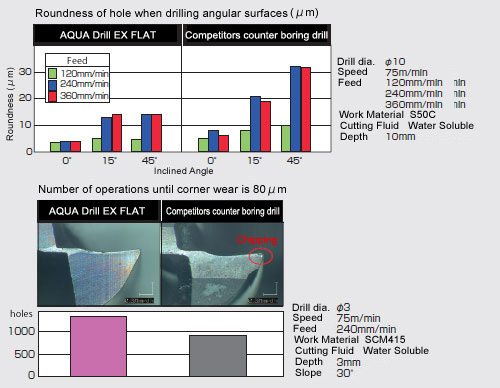 Burr size comparisor at exit of hole inside pipe materials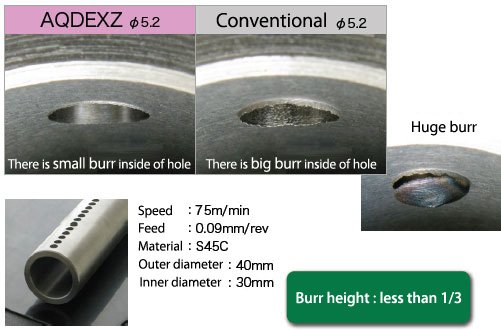 Drilling process comparison in guide holes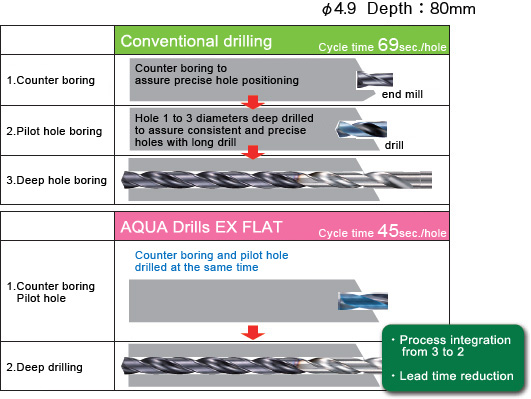 Fuel pump parts drilling on the sloped surface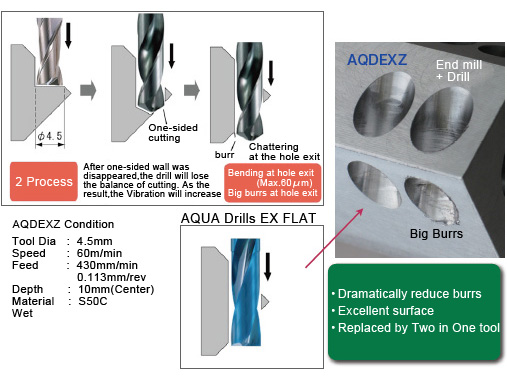 Gun Drill tool life extension with AQDEXZ as pre-drilling tool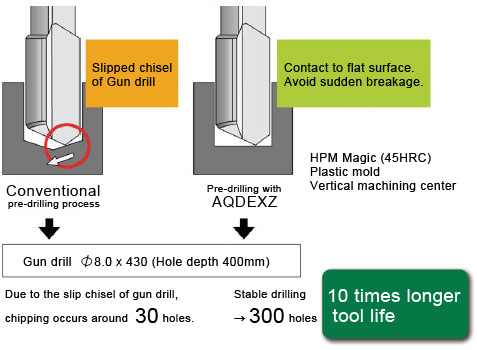 * Flash Player is required for video playback.
If you do not have a plug-in, download from here.
* Internet Explorer 6 or Firefox 3 or later is
recommended for video playback.
Performance 2
AQUA Drill EX FLAT
Example for stainless steels (SUS304)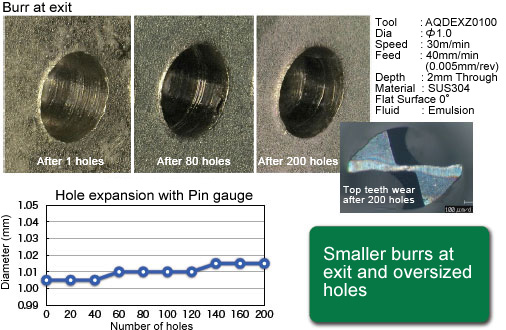 Expansion of the hole diameter for S50C
Hole accurocy of drilling thin plates of aluminum alloy (A5052)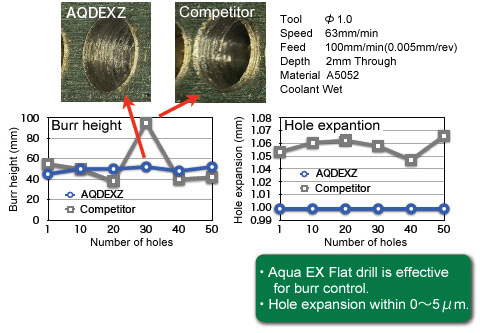 List Numbers
AQUA DRILL EX FLAT LIST NUMBERS
9610 - Stub, Metric sizes
9611 - Stub, Fractional sizes
9628 - Super Stub, Metric sizes
9818 - Regular, Metric sizes
9819 - Regular, Fractional sizes
9830 - Radius, Metric sizes
9831 - Radius, Fractional sizes
9816 - Long Shank, Metric sizes
9817 - Long Shank, Fractional sizes
Download:
WARNING: This product contains Cobalt, a chemical known to the State of California to cause cancer. For more information go to www.P65Warnings.ca.gov